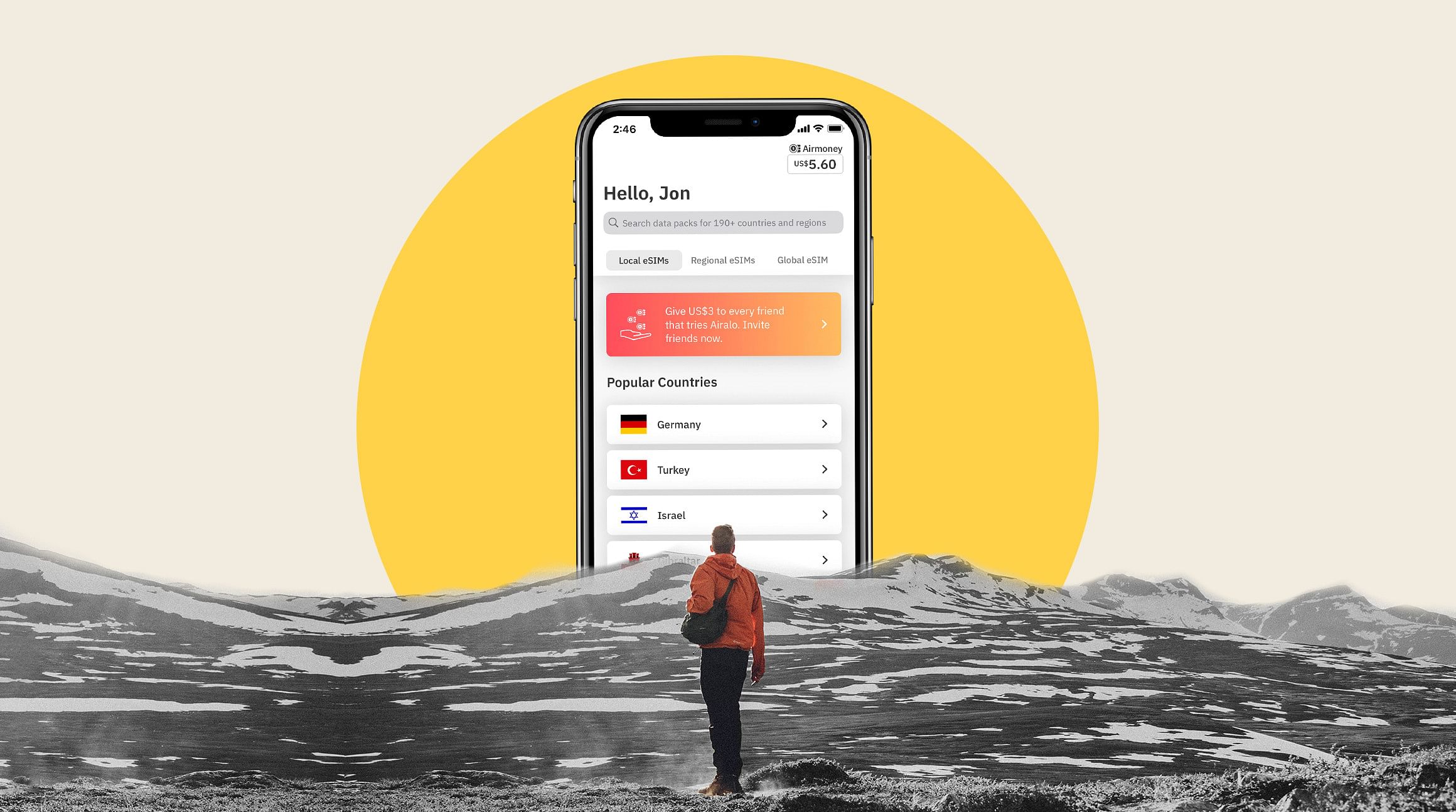 With a smartphone, the world is at your fingertips — and using travel apps can make your next trip a breeze. From eSIM data plans to hotel bookings and everything in between, we've rounded up the best apps to download for your next adventure. The best part? Most of them are free. Read on to discover our top travel app picks.
The Best Travel Apps To Download: Our Top 7
There are dozens of great travel apps to use while you're abroad. Here are our seven favorites. 
1. Google Maps
Google Maps is a smartphone staple, and it's likely you already have it installed. That's great news because it's one of our top travel apps that's both 100% free and utterly invaluable. 
Google Maps has become much more than simply, well, maps. Here's where it comes in handy for travelers:
You can use it offline. You heard that right. Simply download the area you want to visit and use real-time GPS even with your data turned off.  
It's helpful for recommendations. Check out reviews and ratings. Tons of travelers use Google reviews to recommend locations (and warn you away from tourist traps).
It's great for getting off the beaten track. Google highlights landmarks and tucked-away places far better than almost any other map. Use it to explore unique locations you may not have discovered otherwise.
2. Airalo
Need to stay connected on your trip? Download the Airalo app (iOS and Android) to access eSIMs for hundreds of countries and regions worldwide. With an eSIM, you can:
Connect to a mobile network within minutes of arrival
Store multiple eSIMs on your phone
Easily switch between data plans (and destinations)
Keep your regular phone number for phone calls and text messages
Top up your data plan as you go
Say goodbye to surprise roaming fees
3. Ride-Hailing App
Uber is available in thousands of cities around the world. It's a convenient and safe way to get around, especially if you aren't familiar with an area. But, it's not the only ride-hailing app out there! Others include:
Ola (India, Australia, New Zealand, UK)
Grab (Most of Southeast Asia and Japan)
Cabify (Spain, Portugal, Mexico, and much of South America)
Lyft (United States and Canada)
Bolt (Europe)
Careem (Africa and the Middle East)
Yandex (Russia, Belarus, Kazakhstan, and other CIS countries)
3. Airline App
Nowadays, most airlines have an app that gives passengers access to data about their flights. You'll get real-time notifications, backups for your ticket, and other important documents before and during transit. In many cases, you'll be able to download boarding passes right onto your phone, eliminating paper (and the chance of misplacing a ticket) altogether.
4. Google Translate
Google Translate supports hundreds of languages and is indispensable for travelers. You can use your keyboard, microphone, and camera to translate words, phrases, and conversations on the go. Remember that Google Translate is super handy, but isn't perfect. Avoid trying to translate long sentences and when possible, look for the little badge on each translation you get — it means the result is community-verified and likely to be correct!
Pro Tip: Download the primary languages of the area you'll be visiting before departure so you can access them offline (and don't need to use data). 
5. Accommodation Apps
A couple of accommodation apps can make your trip infinitely easier. If you can't find a place on one, you can check out the other for additional options. Some of our favorites include:
Airbnb
Hostelworld
Booking.com
HotelTonight 
6. Digital Wallet
Many businesses now accept electronic payments, making it easy to pay for services right from your smartphone. A digital wallet is an electronic version of your physical wallet and stores digital versions of your credit and debit cards. To make an in-store payment, you simply tap it like you would a credit or debit card. Some examples of digital wallet apps include:
Apple Pay
Google Pay
Samsung Pay   
Paypal
Remitly
Amazon Pay
Alipay
Using a digital wallet saves you time fussing with foreign currency and keeps your physical wallet stored away safely. It's an easy and secure way to pay for services while you're on the go in a new country.
7. WhatsApp
Another travel essential is WhatsApp. This internet-based messaging app makes keeping in touch with friends and family super simple. It allows you to keep your home number and connects to your phone's contacts so you can call and text for free when you're connected to Wi-Fi. No internet connection? Use it alongside a data plan to ensure you don't get charged high roaming rates.
Even if it isn't your preferred messaging app, WhatsApp can come in handy when traveling. It's the go-to messaging app for several countries around the world, and many services geared towards travelers and tourists use it to communicate with customers. 
With these travel apps, you'll stay oriented, connected, and in the know wherever you go. Make sure you have data to support them — Check out the Airalo marketplace to explore eSIM plans for your next destination!