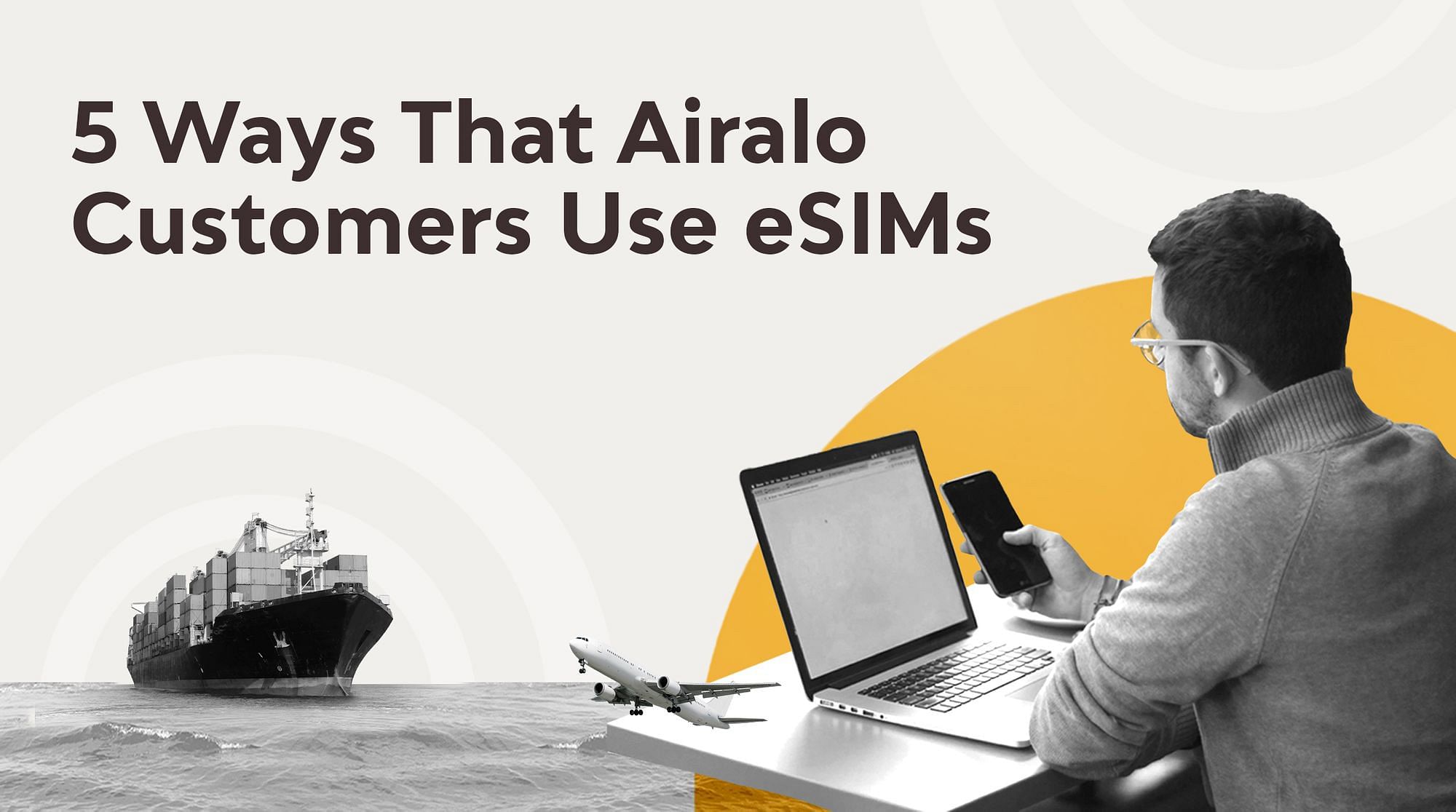 As the world's first eSIM store with 300,000+ customers, we've received an exceptional amount of feedback on first-time eSIM users and recurring users.
While each person will experience their eSIM journey differently, we've found that for most of our users these 5 ways of using eSIM are fairly ubiquitous.
But before we get to that, you might be wondering:
What's an eSIM?
For those who are unfamiliar, or would just like a recap, simply put, "eSIM" stands for an "embedded subscriber identity module".
With traditional SIM cards, you would swap cards to your phone to change network providers. With eSIMs, you can now download data packs directly to your device.
That means you can do quite a lot that you couldn't before, giving you a seamless data connectivity experience.
You could be sitting on your living room couch and download any data plan you like
You won't get hit with outlandish roaming prices, as all our plans are prepaid
You can arrive in a new country, turn your eSIM line on and have data immediately (no more finding SIM vendors when you land)
Having data plans on the go that you can directly add to your device has given our users a lot of flexibility in how they choose to use their data.
Here's our list of the 5 most common ways Airalo customers use their eSIMs.
1) Internet at home (replacement)
While most of our users download data packs for travel, some of our users have told us that they'll take an Airalo data pack and use it on the go in their home country.
Taking their eSIM capable phone, we've heard of users who've traveled within the same city or country and either managed their workflow directly on their phone or tethered data to a laptop.
Typically, these users have expressed their interests as a mixture of lifestyle and work-life while using an Airalo data plan at home.
These kinds of users are normally found in countries where local data, wi-fi, and network options are challenging. For them, having a reloadable data option on their phone just makes sense.
2) Working remotely (Digital Nomads)
Digital Nomads are folks who just love to travel and work wherever the wind takes them. One week they're waking up in Italy, next week in Turkey, and the month after in Singapore.
While their travel patterns may not be as drastic as that, what they do have in common is an occupation that allows them to work on short-term contracts or fully remotely in any country they please. Typically, digital nomads are in the tech, entertainment, travel or, entrepreneurial space - with nothing more than a laptop, phone, and backpack.
They can make any place their home, and these users take full advantage of downloadable and flexible eSIM plans to any country they travel to.
3) Seafarers and Seamen
Going from port to port can be tiring, especially if you need to update your data plan upon arrival in a new country.
Seafarers and Seamen are actually what inspired Airalo to grow into the company it has to date. Our sister company, Sim4Crew, began by servicing seamen with global data packs so they would have cellular access upon arrival at port.
Seafarers have been the core building block of our user base and have remained some of our most influential users since.
It's been inspiring to hear that this previous data connectivity problem has been solved in a meaningful way - as seafarers and seamen are perfect examples of users who don't have the time to go and find a SIM vendor when they land.
4) Traveling on Vacation
The fourth-largest group of eSIM users are the ones who love to travel for fun. We hear a lot of stories about people who have used their first eSIM while traveling to a new country.
It's an exceptional amount of trust these users put into us, as they trust their data package will work once they arrive. We're always happy to hear the time we help safe for travelers on their journey.
Typically, travelers who vacation will also reload their eSIMs multiple times while on their trip. Travelers often opt for larger regional or global plans if they plan to visit multiple countries over the course of many weeks.
5) Traveling for work
Our users who travel for work have become smaller over the past few years with travel restrictions - but in normal times, eSIM users have told us how they've taken their work and managed their workday on our eSIM plans.
Similar to digital nomads, business travelers often will find quiet locations like cafes or libraries to sit down, tether data to their laptops, and respond to a few emails.
But unlike digital nomads, business travelers usually visit just one country for an event, meeting, or conference. So they might be using their eSIMs to order food, ride-sharing, booking hotels, and flights on the go.
They can't take the time to explore, so every second of connectivity counts that much more.
How do you use an eSIM?