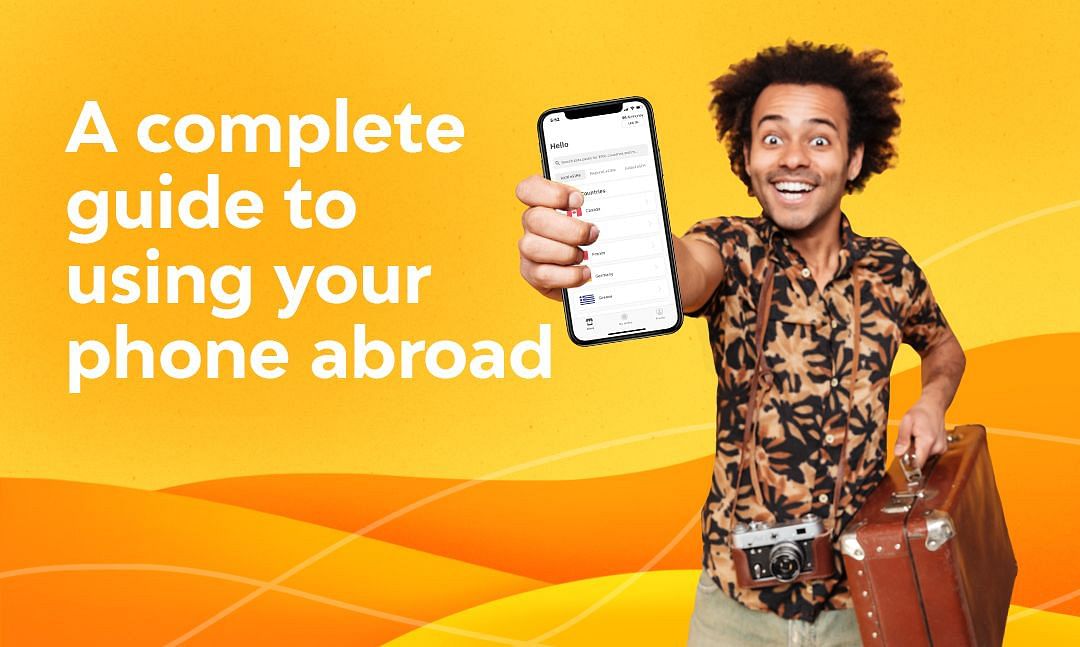 Millions of people travel abroad with their iPhones every year. The vast majority of them will have no problems whatsoever. In fact, they'll return with plenty of amazing pictures and videos shared across their social media platforms.
But sometimes things go wrong. That's part of life. When traveling with fancy technology, there is even more opportunity for this to happen.
That's what inspired this guide to using your iPhone abroad. It covers everything you need to know about how to handle your iPhone when traveling internationally.
Read on to discover tips and tricks from actual travelers like you.
4 Things You Must Do When Using Your iPhone Abroad
Planning to travel abroad with your iPhone? Awesome!
However, don't just take your iPhone with you on your next international excursion before you've done these four things to ensure that it stays safe while you have fun.
1. Prepare Your Phone Before You Travel
If you're wondering if there are steps you should take to ready your iPhone before traveling abroad, the answer is yes. In fact, there's quite a bit you should do, especially before you travel. Taking these steps will ensure that your phone remains secure and minimizes the chances of unexpected charges on your next bill.
We recommend that you take these measures at the very least:
Ensure your iPhone is unlocked: If you intend to use a local SIM card or a third-party eSIM, you'll need an unlocked device.
Familiarize yourself with WiFi-based services: Apps like iMessage and Facebook Messenger can let you keep in contact with friends or family without using WiFi.
Turn off data roaming: Turn off data roaming to ensure that you don't accidentally pile on charges while you're abroad.
Get an eSIM: A data-only eSIM can give you mobile data at local rates.
Reset your usage statistics: Reset your usage statistics so you can immediately tell if an app is using data when it shouldn't be.
Update your 2FA information: Switch to app-based user authentication to validate your identity on services that require it.
2. Back Up Your Information
Apple is at the front of the pack when it comes to keeping your data and information backed up. While most data on your phone will be automatically backed up in cloud storage, you should back it up on your own as well. This might be helpful if your phone is lost or damaged during your trip.
To backup an iPhone:
Connect your device to a WiFi network.
Go to "Settings" on your iPhone, choose your name, and select "iCloud".
Select "iCloud Backup" and choose "Back Up Now".
If you prefer, you can also backup your device with your computer. To do this:
Connect your device to your computer.
If you have a Mac running Catalina 10.15, open Finder. Otherwise, open iTunes.
Follow the onscreen steps when you're prompted for a device passcode or to "Trust This Computer".
Locate the device in Finder or iTunes.
Select the Backup options that you wish to have. It's a good idea to choose "Encrypt local backup".
Safely eject or disconnect your device once the process successfully ends.
3. Have a Plan for Your Mobile Data
Before you embark on your grand adventure (or perhaps just your weekend getaway), make sure you've got a plan for your mobile data. Exactly what that plan involves will differ according to your needs. In general, you've got four options:
Disable it and rely on WiFi
Use your carrier's international data package
Get a local SIM card
If you've got an iPhone XR or later, your phone is eSIM compatible. Depending on the nature of your trip, this will be the easiest option. An eSIM takes just a few minutes to download and has many flexible options. With an eSIM, you'll access mobile data on local networks at local prices, while still being able to use your phone number if you like.
4. Be Street Smart with Its Use
Apple has invested in robust tracking and security for its devices, but don't rely only on that to keep you safe. It's an unfortunate fact that smartphones are attractive, and not just to their owners. In the U.K. alone, 67,000 smartphones are stolen every year – a third of them are iPhones.
You can minimize the chances of this happening to your iPhone by taking a few precautions while you're abroad. Make sure that you:
Don't walk with it in your hands. It may make you a target for savvy scam artists. Put it away and use it discreetly.
Don't keep it in a back pocket. That's an easy place for pickpockets. Put it into a zippered pocket in front of you or inside your bag.
Don't leave it sitting on a table at a restaurant, even if you're right there. A thief can run off faster than you can get up.
Don't confront thieves. An estimated 68 percent of phone theft victims will put themselves in danger to retrieve a stolen device. Just don't do it.
Be careful where you snap pictures or record videos. It's not unheard of for people to demand money if they think you photographed them, their shop, or their home.
Keep it on you. Hostel and hotel lockers aren't safe. Keep it (and your other valuables) on your person as much as possible.
Don't Fuss with Fragile Hardware – Stay Focused on Adventure with eSIMs from Airalo
You probably haven't thought twice about taking your iPhone with you on your travels abroad. You can do it, and with the right precautions, you'll enjoy a trip that's eventful in all the right ways.
We've covered four things you must do when traveling internationally with an iPhone. From preparing it before you go to using it smartly while you're there, these tips will help you get the most out of your trip.
Need to stay connected on your trip? Head over to Airalo eSIM store and get cheap data packs in 190+ countries and regions.