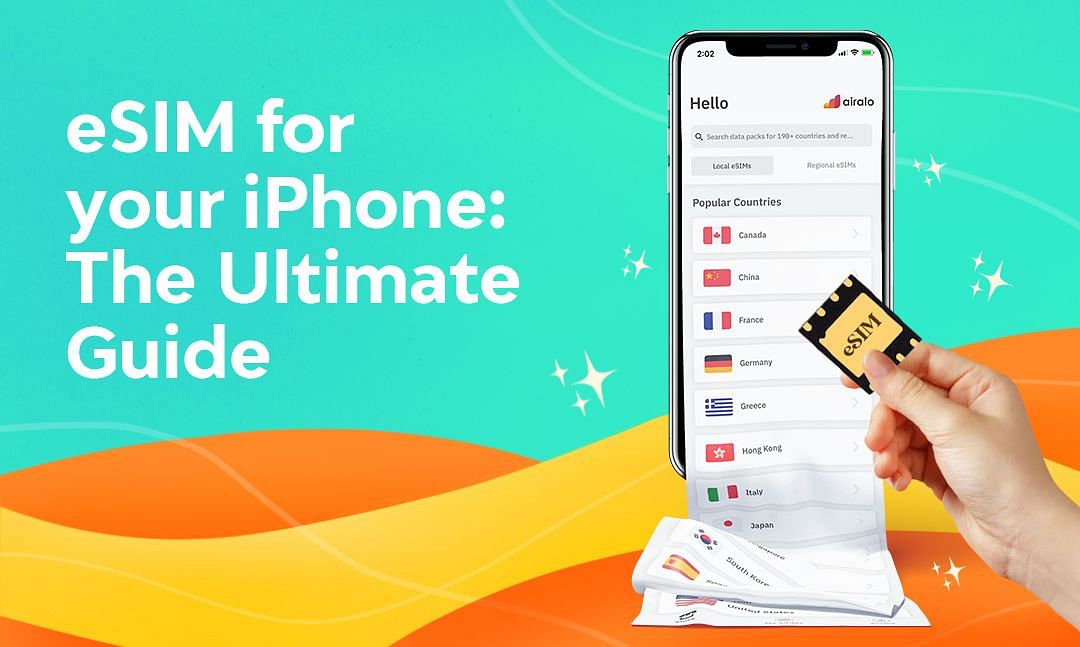 No vacation is complete without the world-stopping photo qualities that an iPhone effortlessly delivers. You probably haven't thought twice about bringing it along to take pictures and share them with friends.
But there are a few things to consider. From knowing what to do with it while abroad to navigating local service, traveling abroad with an iPhone is something of an art.
You can simplify things by getting an eSIM, which is now supported on most recent iPhone versions. With one or three of these installed onto your iPhone, you can spend more time snapping pictures and sharing them on Instagram and less time worrying about roaming or missed WhatsApp texts.
Here's everything you need to know about eSIMs for iPhones.
The Advantages of eSIMs for iPhones
Got an eSIM compatible iPhone? That's great news for the next time you travel. eSIMs simplify and streamline your travel by ensuring that you maintain seamless connectivity. When you use eSIMs with an iPhone, you'll discover the following.
1. There's No Risk of Freak Phone Bills
Most guides on traveling abroad with an iPhone will tell you to be extra certain you've turned off data roaming – they might even go as far as telling you to take your SIM card out and leave it home. Why?
It's not unheard of to accidentally rack up bills to the tune of ten thousand dollars or so. In fact, service providers are eager to charge exorbitant fees for international roaming because they bank on you needing service.
Using an eSIM eliminates that. Completely.
2. It's Easy to Switch Between Data Plans
Going to one country? Three? Fifteen? Your ability to store eSIM data plans is limited only by how much space your iPhone has. Plus, Apple loaded the interface with super intuitive controls to make it a cinch to switch between data plans.
3. You Can Have Separate Voice and Data Plans
Of course, maybe you want to keep using your voice plan with your provider. That's common with people who travel for work and want to continue picking up calls on their business numbers. All iPhones that support eSIM are dual-SIM compatible, which means you can easily take advantage of this feature.
Which iPhones are eSIM Capable?
The eSIM is a function found on newer iPhones that run iOS 13 or later. (To tell whether or not your phone supports eSIM, navigate to Settings and select "Cellular/Mobile Data." If you see an option to "Add a Data/Cellular Plan", then you've got eSIM.)
Generally, you can use an eSIM if you've got an:
iPhone XR
iPhone XS and XS Max
iPhone 11, 11 Pro, and 11 Pro Max
iPhone SE (2020, 2nd generation)
iPhone 12 Mini, Pro, and Pro Max
You can check the full list of eSIM capable devices here.
These phones are dual-SIM and come with DSDS technology to allow you to use both numbers at the same time if you like. There is, however, one big catch:
Bought your iPhone in Mainland China? eSIM might not be available
Currently, eSIM is not offered on iPhones destined for consumers in mainland China. In 2018, Apple did roll out a special iPhone version that supports dual SIM – two nano-SIM cards – but eSIM for iPhones in China probably won't be a thing for a while, if ever. This is something to consider if you bought your phone there.
What about 5G and eSIMs for iPhones?
The iPhone 12 and newer supports 5G, but you might not be able to use it when you're using an eSIM. Apple notes that this is particularly true when both of your phone lines are active. In this case, you'll use 4G if it's available in your area.
You will have to disable dual SIM mode and turn off one of your phone lines to get 5G again. You can, of course, turn the line back on at any time to continue using it. Doing this won't interfere with your service.
Your iPhone Must Be Unlocked
This is one other important thing to note when you go to use an eSIM with your iPhone. Your iPhone must be unlocked if you want to use two different carriers at once. Otherwise, you'll need to purchase an eSIM plan from your carrier. That isn't always the most cost-effective option.
Apple recommends that you contact your carrier to unlock your iPhone. Explaining that you'll be traveling abroad is often sufficient. If they refuse, however, consider a third-party option to unlock it so that you can take advantage of cheaper local data plans through an eSIM marketplace.
Most iPhones purchased directly from Apple come unlocked. However, if you aren't sure of your phone's lock status, there are a few ways to tell.
How to Use an eSIM on an iPhone
Interested to try an eSIM but don't want to commit to a contract? You can get prepaid eSIM data packs from Airalo eSIM store.
Using an eSIM from Airalo on an iPhone is super straightforward. It only takes a few quick steps to get all the data plans you need for your next trek into the vast, amazing world. Here's what you do:
1. Purchase a Plan and Activate It
Purchase a plan on Airalo. Once your payment is complete, you'll receive a confirmation email with instructions. You may effortlessly install it either:
By scanning the QR code given
Manually installing it with the SM-DP+ address provided.
2. Use Your iPhone Normally
You don't have to do anything special to use your eSIM on your iPhone. If you want to switch between lines or use dual-SIM, simply go to Settings and select "Cellular/Mobile Data." You'll find an option to "Turn On This Line."
Sometimes you might need to change your APN settings, so read the instructions you receive carefully.
3. Deactivate or Remove an eSIM
You don't need to remove old or expired eSIMs but you can delete or temporarily disable them. Under the "Cellular/Mobile" you may see an option to "Remove Mobile Data Plan" or something similar. DO NOT delete your eSIM if you're planning to use it in the feature. It cannot be reinstalled. You may also "Turn Off This Line" to temporarily disable it.
Get Complete On-the-Go Connectivity for Your iPhone with eSIMs from Airalo
Dual SIM and eSIM are just two of the many wonderful features found on the newest generations of iPhones. We've covered everything you need to know about eSIMs for iPhones, including the special circumstances where they might not be available.
You're now prepared to go on your trips and take all the amazing photos you want. Don't worry, we've got you connected no matter where you may roam.
Check out the mobile data plans available at your next destination right here.