You like options – you wouldn't travel if you didn't.
With 195 countries on six continents, you've got plenty of adventures to choose from.
However, there are sometimes too many options. And then a defense mechanism that psychologists call analysis paralysis kicks in, leaving us feeling a bit overwhelmed.
It can happen when choosing hostels, apartments, tours, SIM cards…
There are as many SIM card and eSIM options as there are ways to travel the world. We created this quick guide to make this process simpler for you.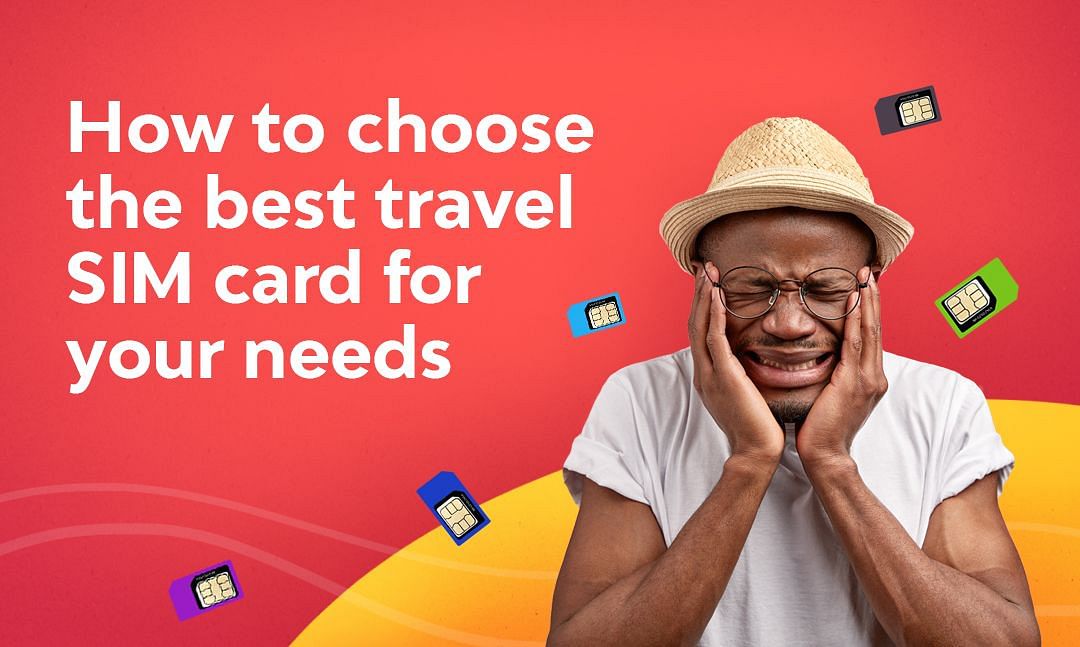 How to Pick the Best Travel SIM Card for Your Needs in 5 Easy Questions
Picking out a travel SIM card can be tricky if you don't know what you need. With so many options to choose from, how do you know what's best?
To help you identify the best travel SIM card for your needs, here are five things you should ask yourself before you review your options. Your answers will help you develop a much better sense of what will work best for you.
We've put together this guide to help you figure it out. Here are five questions you should ask yourself, plus our best recommendations to consider.
1. Where are You Going?
First and foremost, take a moment to figure out where you're going.
This might seem like an obvious step, but maybe you're one of those types to book a one-way plane ticket and leave without looking back.
Where you're going will have a tremendous impact on the travel SIM card you choose.
For example, it might cause you to spring for a regional SIM card. Or… you might find it better to have individual eSIMs for every country.
Here's what we recommend when you're traveling to…
One country: If you know you'll be in just one country, consider getting either a local SIM card or a country-specific eSIM. This way, you'll access local networks at local prices.
Multiple countries in the same region: A regional eSIM, covering the whole Europe or a group of Asian countries, will be your friend in this case.  If you're going to only a handful of countries, you may opt to store individual eSIMs on your device and switch between them quickly when you arrive in a new destination.
Multiple countries in different regions: For long, multi-destination trips, your best bet is an international SIM card or global eSIM that covers 94 countries.
You don't know yet: An international SIM card or global eSIM can give you the flexibility to travel without a plan, but nailing down your itinerary a little better may open up more cost-effective options.
2. How Long Will You Be Gone?
The length of your trip matters. Headed out for a long weekend? You probably won't need a 10GB package that's good till the next month.
In contrast, that might be exactly what you need if you plan on spending a month exploring a large city.
To get a sense of what you'll need out of your travel SIM card, first find your average data use per day, week, or month. A good rule of thumb is to plan to use at least that much data on your trip – plus a little extra since you'll probably rely on your phone for navigation.
We also recommend:
For a short trip, consider inquiring with your data carrier about the cost of international roaming. Take note, that it is usually expensive. Alternatively, see if you can get by relying on WiFi hotspots and pre-downloaded maps.
Get prepaid data plans for your destination. This way you'll know exactly how much you're spending.
If you're traveling for a long time, make sure you have a way to top up your data plan in case you run out. Get providers that allow you to do this online.
3. Do You Need to Keep Your Phone Number?
Many professionals who travel for work enjoy having a personal phone number as well as a separate business number. In many cases, it might even be necessary.
If that's your situation, a dual SIM with eSIM is a good idea. This solution lets you keep your phone number active while using cheap local data on your eSIM. That way, you'll sidestep costly international roaming data charges but your service will remain uninterrupted.
4. Are There Ways You Can Reduce Data Use Abroad?
Reducing your data use abroad can help you not just to spend less and opt for a small package but also reduce your reliance on cellular infrastructure. That's a wise thing to do if you plan on traveling in an area where you expect questionable coverage.
Fortunately, there are many ways to do this. Consider:
Switching to WiFi-based apps to keep in touch with friends and family
Downloading Google Maps for offline use in specific areas
Turning on the Data Saver setting on your phone
Restricting apps from using data in the background
Pro-tip: If there's a major trip on your calendar, train yourself to do these things in the months prior. Track your data usage then look for a travel SIM card with a plan that matches what you'll need.
5. What Kind of Phone & Carrier Service Do You Have?
Although eSIM has been around for a few years, the technology only crops up in newer phones.
That said, dual SIM is much more common, especially in Androids. If you've got two SIM card slots, you can easily use a local SIM card or an international SIM card.
It's also worth noting that some carriers do offer free international data. However, you may be limited to slow 2G speeds. If mobile data is non-essential to you, consider this option.
Pro-tip: If you're going to get an international SIM card, plan at least a week for shipping.
Get the Best Travel SIM Card for Your Needs with Airalo
Finding the best travel SIM card can be a chore, but Airalo eSIM store makes it easy. We've covered the five major questions you should consider when choosing a SIM card or an eSIM.
An eSIM is a new technology that's available on most of the latest phones, like iPhone XR and newer. It's finally an answer to numerous long-standing challenges that travelers have faced when securing mobile data abroad. With an eSIM, you can get everything you need in one place, and have it ready to use when you need it. It's that simple.
Airalo offers prepaid eSIM data plans which work just like a regular travel SIM card, but without the fuss of searching and fiddling with them. There are numerous options available from 1 GB 7-day plans for shorter trips, to 100GB data packs for 180 days, perfect for data hungry travelers. Choose a suitable eSIM data plan from 190+ countries and regions and experience hassle-free connectivity.
Stay connected instantly wherever you go with eSIM mobile data plans from Airalo.