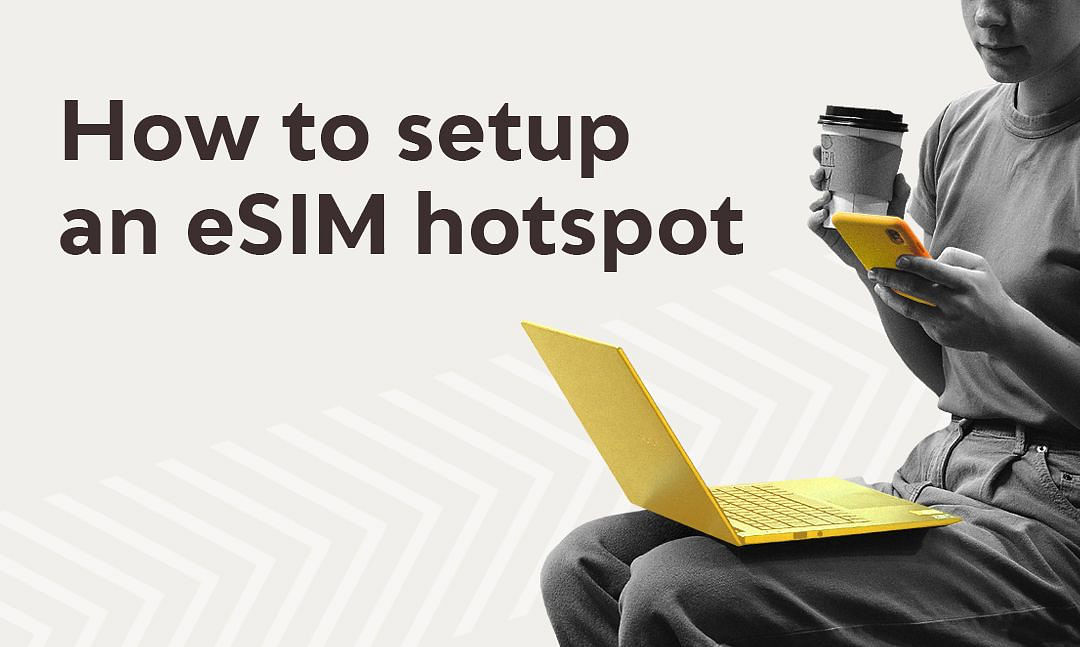 There are a lot of cool things you can do with your phone! Phones have this fantastic ability of internet access as long as you're in the range of a wireless network provider.
Did you know, you can share your carrier data with any other device? With a few simple steps, you can set up a mobile hotspot on your phone and tether data to a friend nearby.
So, you might be asking: how does tethering work?
What is Data Tethering?
Data tethering is when you turn your mobile phone into a modem. Effectively, from your phone's settings app, under cellular, you can turn your mobile hotspot on which creates a mobile network (seen under Wi-Fi connections).
Your phone will generate a password you can share, and through your data usage, anyone with your password can access your portable Wi-Fi hotspot.
There are a few different types of tethering, which are:
Wi-Fi tethering
As described above, Wi-FI tethering is one of the most common forms of tethering. Effectively, you create a Wi-FI hotspot with your wireless data - and let another device connect to the temporary Wi-FI network you've set up.
This means a laptop, tablet, or computer in range of your phone has an internet connection. While Wi-FI tethering is generally quite fast, it uses up a lot of your battery to do so.
Bluetooth tethering
On an Android phone, between another Android device, you can enable Bluetooth tethering. Principally, it's the same process as setting up a Wi-FI mobile hotspot, but now the binding connection is through Bluetooth technology.
Keep in mind this will still consume your data and the connection speed will be slower than on the main device. While Bluetooth tethering is relatively slower than other forms of tethering, it is more efficient for battery use.
USB tethering
USB tethering is when you use a USB cable to connect a phone to another phone, tablet, or laptop. USB tethering is most ideal with another phone.
The USB connection will create the strongest and most direct internet connection but has a tendency to be taxing on your device.
What's a Phone Hotspot?
Data tethering is the act of sharing data between devices, while a portable hotspot refers to the device that's sharing data. (A device that's hotspot capable also includes tethering).
The only condition needed to set up a personal hotspot is to just make sure the device has mobile data on it.
Most Android phones, Apple phones, and some tablets will have a built-in IMEI number for data connectivity. By checking your IMEI settings from your device, or by dialing *#06#, you can quickly learn what types of SIM cards your phone can use.
You can check via your IMEI if your device supports dual-SIM connectivity and if your device support digital eSIM cards.
What's an eSIM?
A digital eSIM stands for an "embedded" SIM card. if your device is eSIM capable, you can download data packs from the Airalo store, which you can use to create a portable hotspot.
Just make sure you have an internet connection, and you can download a corresponding plan to your phone.
Pre-loaded data
Do keep in mind that because the Airalo data packs are pre-loaded, you will only be able to tether as much data as you've purchased.
If you're using a data plan with your primary carrier, you may pay extra for the use of the hotspot as an "other data" charge. Consult with your provider to see if tethering is charged at an extra cost - even if you have unlimited data.
How to set up a Phone Hotspot: SIM and eSIM
Whether it's through a USB cable, a Wi-FI hotspot, or Bluetooth setting up a personal hotspot is quite simple.
For Wi-FI
Go to settings > tap on "cellular" > find your cellular line > tap on "setup personal hotspot"
For Bluetooth
(Android) Go to settings > Find "Bluetooth" >  from your Bluetooth, "pair new device" or connect existing device > from the other device connect to the primary device
For USB
(Android) Plug your phone into the device you want to connect via USB > Go to settings > Find "portable hotspot" or "personal hotspot" > Find the menu that says "USB tethering" and turn it on
Things to consider when tethering
Do keep in mind that your mobile data service will vary from carrier to carrier - meaning there may be hidden costs or a tethering fee, depending on the agreement with your provider.  Always consult your provider if you're unsure about your data limits for tethering other devices.
Tethering for most phones and devices
Here are a few things to remember while tethering:
Your plan is going to use a lot more data: Unless you're using a plan with unlimited data, be aware that your tethered connection will offer your high-speed data to another device/devices. Be careful which devices you give your hotspot password to, as any data they use will come out of your plan. It's recommended you only turn your hotspot on while the other person needs the data.
There's a limited range: mobile devices can only connect to your phone's hotspot if they're close by to you. The range will vary from phone to phone and network type - but generally, any device that's within 10 feet will have connectivity. This is why it's best to enable access to your hotspot for a short period of time.
Tethering can be taxing on battery life: Your phone's battery life entirely depends on what you enable on your device. Access to Bluetooth, apps, web/ data service, and tethering all contribute to your mobile usage. The good news is that all these hardware factors can be limited through changes in the software. Make sure to go to your settings and turn off any apps or web service that's taxing on your device (when not in use).
Tethering a mobile hotspot with an Airalo eSIM
These rules generally apply to most plans, but if you're using the Airalo app and want to tether data off your eSIM data plan, here are a few other considerations:
Global carrier service will vary across regions: If you're using the Arialo "Global eSIM" do keep in mind that your wireless connection speed will vary across our 90+ global providers. The Wi-Fi network, and subsequent Wi-Fi connection, will be different depending on where you are in the world. This could range from 3G, 4G, or LTE by network name. You can always consult what network your Global SIM will be a part of by looking at the "additional information" tab within "my eSIMs".
Tethering speeds will vary across each region: Even within one country, carrier speeds are determined by the existing infrastructure. If you happen to be in a region with slower network speeds, do keep in mind your tethering speed will be capped at a fraction of your data speed.
Now you know how to make the most out of your Wi-FI hotspot while tethering!