Which is better: roaming, international SIM cards, or local SIM cards? It's a tough question to answer, but it's one that almost all travelers have at some point before or during their adventure.
Each has its advantages and disadvantages, which means there's not always one right choice. However, knowing when to choose one or the other can make your trip that much more stress-free.
Relying on roaming, buying an international SIM card, or picking up a local SIM card are three common options for travelers. Here's a closer look at all three to help you determine which one will be best for you on your next excursion.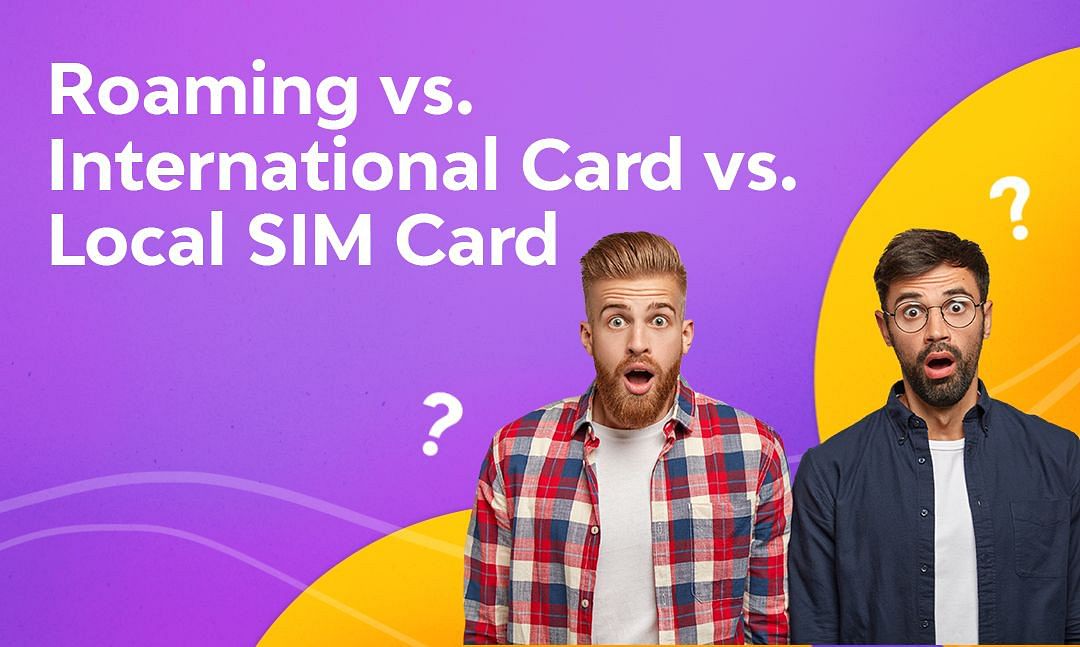 What is Roaming?
Roaming refers to the use of a phone outside the geographical range of its home network. Typically, the phone connects to another carrier's network where it then has access to calls, texting, data, and other services.
For a long time, roaming fees were usually charged per minute for voice calls, per text for messages, and usually per megabyte per second for data. In many cases, you'll still come across similar fee structures. However, some major carriers may offer a set number of "roaming minutes" within a plan or allow users to purchase "roaming-free minutes" on an as-needed basis. Others may even offer special travel plans for subscribers, or free international data.
Generally, the lack of competition between telecom providers means that roaming gets expensive. However, there are some cases you might want to consider using it for a trip. Remember to always contact your provider and ask about packages beforehand. That said, roaming might be an option when:
It's a short trip – you'll need to make calls and text but don't plan on using data
Your carrier offers free international data, free calls, or another add-on service
You'll have a second local SIM card or an eSIM for your data package
What is an International SIM Card?
Carriers like international borders because it means they get to charge roaming fees, but the reality is that mobile data doesn't stop at the border. In fact, as cellular technology advances, it's becoming easier and easier to access mobile data almost anywhere you go.
So, if data is practically everywhere, then how is it all still locked up with individual carriers?
It's not.
Meet the international SIM card. It's a special type of SIM card capable of accessing mobile data on almost any network from any carrier. Some examples include:
International SIM cards are neat because they eliminate many of the problems associated with both roaming and local or regional SIM cards. They provide comprehensive coverage with a single card, keep everything in one language, and are easy to manage online.
However, since they're designed for long-term travelers, it might be hard to find international SIM cards with smaller data packages or shorter terms. That means an international SIM card is best if you:
Are traveling for longer than a month
Will visit more than one region
Expect to have more demanding data needs to stay in contact with loved ones
What is a Local SIM Card?
This is a physical SIM card that you buy at your destination. It's one of the most popular methods for getting cell service abroad because it's a quick and often cheap way to secure data.
Getting a local SIM card is often one of the first things travelers do when they arrive at their destination. SIM card dealers are present in almost every international airport, where you can pick up a data package.
However, keep in mind that these offerings are often more expensive and geared toward tourists – that might be fine for you if you only need data for a week or two. If you're going to stay longer, consider venturing to an authorized dealer in town.
Wherever you choose to buy it, a local SIM card has a few distinct advantages that might suit your needs:
You can get a local number.
They have no contract and usually flexible lengths of time.
It's an old and proven option that always works.
Why Not Get All the Options? eSIM!
There's a fourth option for attaining connectivity abroad that takes advantage of the best of the options above: why not get them all?
An eSIM is a digital SIM card that gives you instant connectivity when you arrive. It allows you to store multiple data plans on your phone and flip between them as you need. You can buy them in bulk before you head out or buy them as you go.
You'll need a phone that supports an eSIM (but that's most new phones) in order to use it. Check out if your phone is eSIM capable.
You can use an eSIM on its own, but you can also combine it with an option above. Here's what you can do:
Combined with a local SIM. Your eSIM handles the data while your local SIM handles everything else. You'll get the affordability of a local SIM card with the flexibility of an international SIM card.
Combined with an international SIM card. Save your data package on your global SIM for when you're out to sea or in another remote area. Rely on the cheap eSIM data plan when you're in town.
Combined with your domestic SIM card. Get data at local prices on your eSIM while texting, calling and receiving bank authentications with your regular number.
Nifty, isn't it?
However you choose to use it, an eSIM has a number of advantages that makes it perfect for travelers:
It's convenient. It's saves you time because you can purchase and install it in a few minutes wherever you are.
It's cheap. eSIMs are generally much cheaper than roaming or international SIM cards. Check Airalo eSIM store for the most affordable rates
It's flexible. You can switch between multiple eSIMs with one tap.
Deciding Between Roaming, an International Card, or a Local SIM Card? Get an eSIM
When it comes to staying connected while you are abroad, you've got options. You can rely on roaming, get an international SIM, or buy a local SIM card to handle your data. You can even get an eSIM and combine it with one of the other common options.
There are as many ways to stay connected as there are to travel. Happy adventuring!
Check out the Airalo marketplace to discover affordable data plans for your next destination.