Did you know that global mobile coverage surged to 83 percent in 2020?
Thanks to the COVID-19 pandemic and the steady rollout of 5G, we're now more connected than ever before.
Shaky signals and dead zones are now a thing of the past.
Not quite.
Coverage may have increased, but accessing it remains a challenge for some. That's particularly true for professionals who spend a lot of time in remote places – like in the middle of the ocean.
Connectivity is still a real struggle at sea, especially when there's no cell tower (let alone land) insight.
We've put together this guide to the best SIM cards for seafarers and seamen.
Sail on to get our best insights!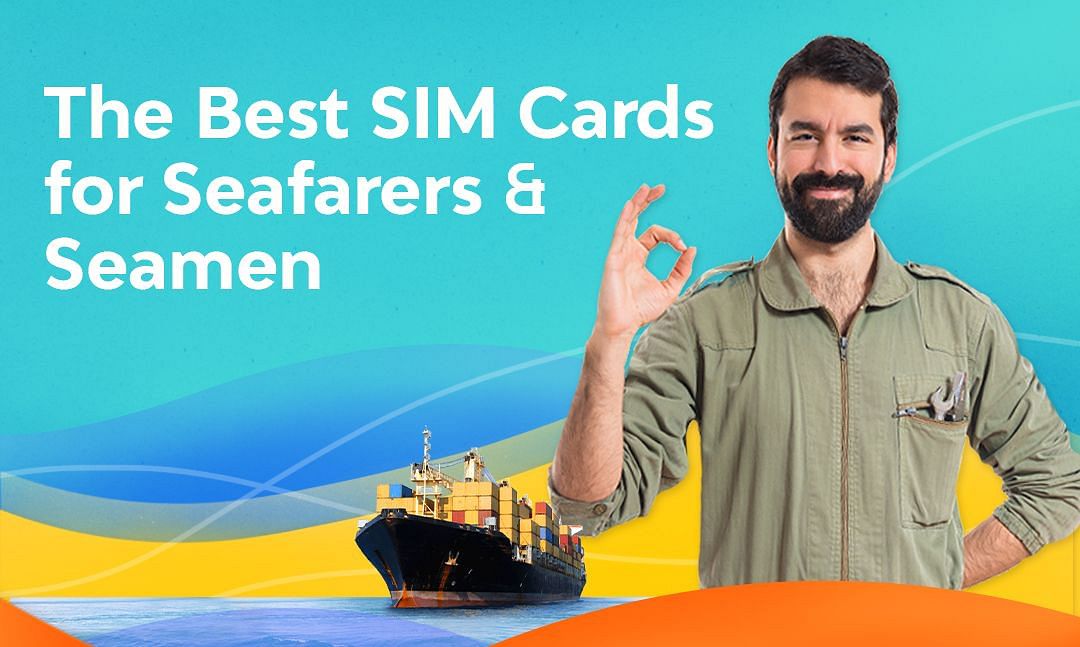 Staying Connected While Out at Sea
This isn't like making sure you've got service for a few days while you go camping.
It's quite a bit more complicated. Not only will you be in remote areas where service isn't even possible, but you've also got to worry about things like:
What country you're even in. At sea, it's not always obvious when you cross borders. There may be no sign of it except for your phone suddenly racking up roaming charges.
How much data you'll need. Seafarers have different data needs from other travelers. You'll need a plan that can support data-rich activities from using video calls to watching TV.
How long you'll be gone. It's not uncommon to remain at sea for several months. That can make re-upping plans or buying new SIM cards difficult. You'll need to plan your access to data ahead of time.
Whether your ship has WiFi, some ships have their WiFi. If that's the case, your data needs will decrease. Try to find this out ahead of time and be prepared to handle things if it doesn't.
How much time do you have to prepare before you leave? This will determine whether or not you can get your hands on a traditional SIM card solution for seafarers or whether you need to look at something like an eSIM.
Three of the Best SIM Cards for Seafarers & Seamen
There are a few options for picking out a SIM card for a long trip out at sea. Here are three of the best SIM cards for seafarers and seamen, plus some thoughts on when each solution is better.
1. International SIM Cards
Global SIM cards like Sim4Crew have long been the traditional choice for people at sea. It's a physical SIM card that you'll need to order ahead of time. However, it gives you global coverage plus plans with more significant amounts of data to meet your specific needs while at sea. You can top it up online, which makes payment super easy.
Sim4Crew isn't the only international SIM card out there, but it's one that many seafarers use and trust because of its simplicity, cost, and data package options (you can choose between the classic and data-hungry SIM cards).
A global SIM card like Sim4Crew or another service is a good option if you:
Want to stay connected easily in 150+ countries
Have the time to wait for it to be shipped and delivered
Don't have a phone that supports eSIM or dual SIM
Want something quick and hassle-free
Will be traveling to multiple regions around the world
2. Local SIM Cards
Local SIM cards are just what they sound like: SIM cards purchased in the region or country you're currently in. You'll usually get a local number and access to data plans at local rates. That can make them incredibly cheap while still giving you fast data, which makes them so attractive.
Local SIM cards aren't always the best option for people at sea. When you dock, you need to search for them and make sure the reseller doesn't offer you one at a higher price. Generally, they're going to be a bit more limited unless you manage to find one that offers regional service. Likewise, it's unlikely you'll be able to top up online, which means you could find yourself out of data.
Local SIM card options are nonetheless something to consider if you:
You staying within the waters of a single country
Will be at the port for an extended period
Need a local number
3. An eSIM Card
An eSIM, or embedded SIM card, is an excellent option for seafarers and seamen. It is a much more convenient alternative to physical SIM cards. Unlike international and local SIM cards, there's no physical component associated with an eSIM. Instead, you can purchase online and download the eSIM via our eSIM marketplace. Then, you'll need to install it in a few quick steps.
The eSIM represents the most flexible of the three best SIM cards for seafarers and seamen. Not only can you purchase single country, regional, and global data plans, but you can also install and store multiple eSIMs before your trip. Likewise, it's easy to top them up online to prevent disruptions in your service. The only downside is that not all phones support eSIM, and you need to be connected to the internet to install it. Check if your phone is eSIM capable here.
If your phone does support eSIM, it's an option with many benefits if you:
Are only going to be in a specific country for a few days and want a shorter service plan
Want to save money and don't mind handling multiple data plans
Want to use cheap data via eSIM and continue receiving calls and SMS with your domestic or international SIM card
Stay Connected When You Set Sail. Airalo Can Help.
Staying connected while at sea has its own challenges – it's not like simply getting away to a remote destination for a weekend or two. From data considerations to how long you've got to prepare, connectivity gets complicated.
eSIM simplifies everything. With a single eSIM, you've got coverage wherever you may sail. No physical SIM card is required. From handling everything online to the length of plans you need, Airalo is a stress-free option for keeping in touch with your loved ones. Or, if you want to save some more money, you can opt for single-country eSIMs and install them individually.
Happy sailing!
Check out the Airalo marketplace for eSIM data plans and instant connectivity.