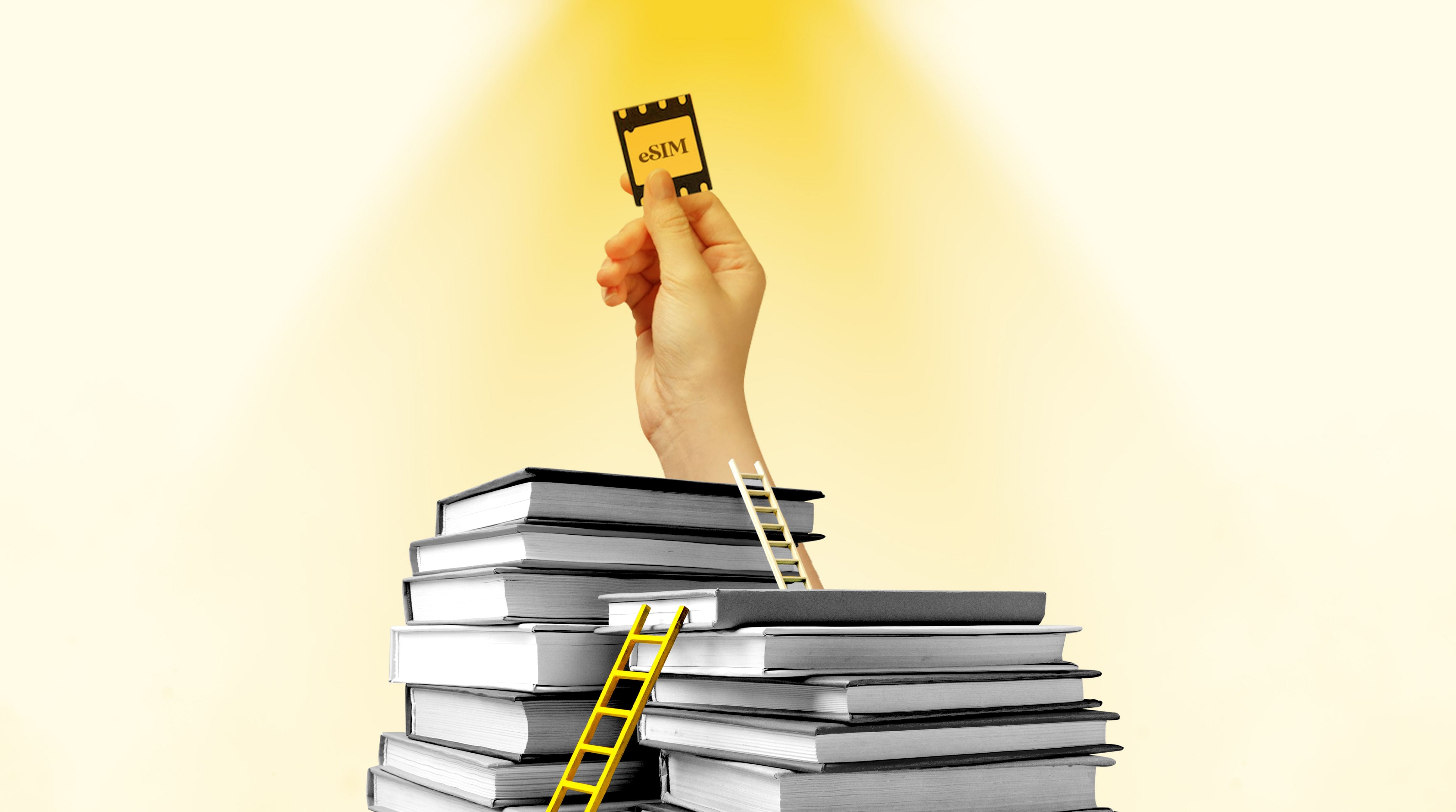 If this is your first time using an eSIM, welcome! Over the past few years, more and more phones have become eSIM-capable, meaning that hundreds of thousands of people are switching to digital SIM packages. What does this mean for you?
In this article, we will discuss: what an eSIM is, how it's different from a physical SIM, what an unlocked phone is, what packages are available and what eSIM terms you need to know before downloading.
Let's get started:
What's an eSIM?
An eSIM is an "embedded SIM card." It is a chip soldered into your device, allowing you to download data plans to your device directly.
This means:
You no longer need to find a SIM vendor while traveling.

You no longer need to pay outlandish roaming fees from your home provider.

You can access data the moment you land while traveling.
Browse from Airalo's 190+ data plans
What's the difference between a physical SIM and an eSIM?
Physical sim cards are external to your phone and can be swapped between devices. An eSIM, on the other hand, is built into your device and internal to your phone. With an eSIM, the entire process is digital, making connectivity more accessible and environmentally friendly.
What's an unlocked phone?
To use an eSIM with Airalo, you will need an unlocked phone. An unlocked phone is a phone not under a contractual obligation, and you are free to insert any eSIM plan you like into the phone.
If the phone is locked, then you will only be able to use the SIM or eSIM given to you by your provider.
Typically, unlocked phones are owned outright by the consumer. Check if your iOS device is eSIM compatible & carrier unlocked, If you're unsure, kindly contact your carrier to learn more about your device's status.
What packages are available?
Airalo offers eSIM packages for individual countries, regions, and global data packages.
If you select an individual country, your eSIM will only connect in that country (e.g., a German eSIM will only work in Germany).
If you select a regional eSIM, your eSIM will work within the designated countries of that region (e.g., The Eurolink plan will work with Germany and 38 other European countries).
If you select the Global Data Plan, it will work within the countries covered in the global plan (e.g., Germany plus 86 other countries).
Most Airalo packages are data-based (unless specified by the plan). This means that you won't have access to call and text services but full access to data.
eSIM Terms you need to know:
Here are some of the key terms you will need to know before purchasing an eSIM:
Package Details:
You'll find information on data, validity, and price within your package details.
Data: refers to the total amount of data preloaded onto the card (e.g., 1GB, 3GB, 5GB, etc.). Please note that once your plan is out of data, you must top up your plan or download another package to your device.

Validity: refers to the amount of time that preloaded data will be valid for (e.g., seven days, 14 days, 30 days, etc.). Please note that once your validity period expires, you must top up or download another package to your device.

Price: refers to the value of that package (e.g., $5, $10, $15, etc.).
Within each package, there will be an ' additional information ' section giving you more detail about:
Network:
The network section will state what provider(s) offer coverage for this plan. It will also note at what speed the coverage is offered (e.g., LTE, 4G, 5G, etc.).
Plan Type:
As mentioned before, most Airalo eSIM plans are 'data only.' However, within the plan type section, the plan will clearly state what the package offers. If the package does offer calling credit, it will say so.
Activation Policy:
The Activation policy reads, "The validity period starts when the eSIM connects to any supported network/s." or "activate instantly as soon as the eSIM is installed."
Suppose your plan activates once it connects to a supported network. In that case, it will only become active in that region (e.g., A German plan with a 7-day validity period will only activate once you are within Germany).
If your plan activates instantly, the plan's validity will be active from the moment of installation. If your plan is structured this way, please wait just before leaving to start the plan. This will minimize downtime and wasted coverage.
eKYC:
eKYC stands for 'electronically know your customer.' Some countries and regions require you to submit and verify travel documents before downloading a data plan for that region. If your particular plan requires you to perform an eKYC check, kindly make sure you've completed this check before departing in the event of needing to resubmit travel documents.
Top-Up Option:
Most data plans will allow you to top up your package. You will not have to redownload and install the eSIM again. You can select another plan for the country or region and activate it from the Airalo app or website.
However, if your plan does not have a top-up option, you will have to delete your expired eSIM and download a new package for that country or region.
Read more: When is it safe to remove an eSIM
Summary
Now you know the basics about eSIMs and how Airalo's data plans work. If you have any further questions about how eSIMs work or want to ask us a question, you can always reach out to support@airalo.com.