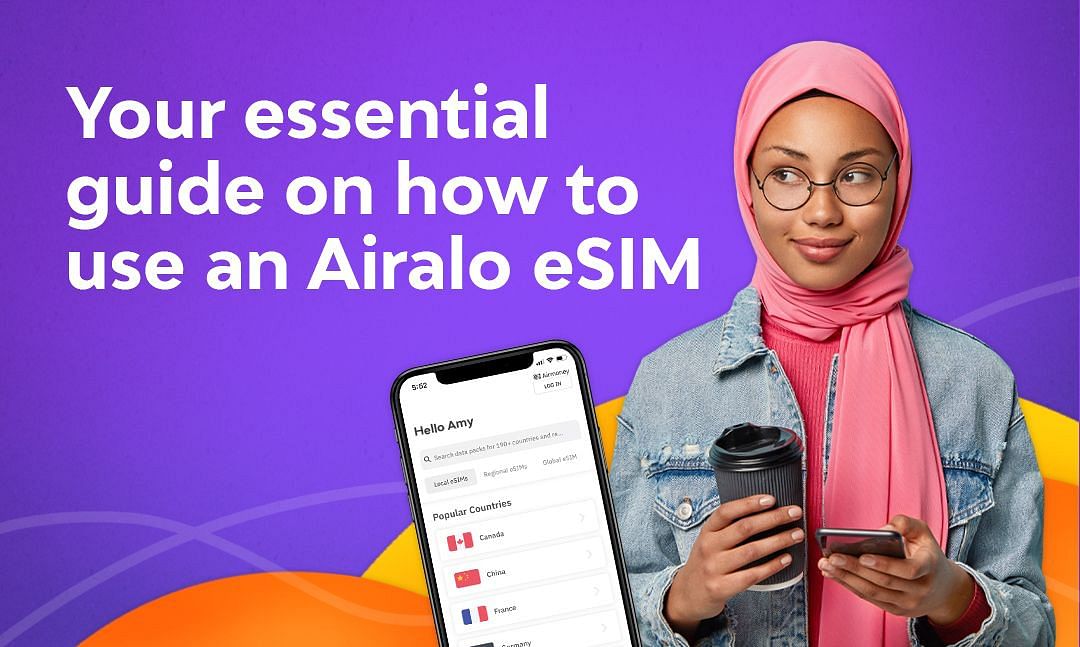 As a traveler or someone who wants to avoid outrageous data charges, it's understandable why you'd choose our eSIM data plan. Nobody wants to pay more for data they can't use wherever they want, plus it's no fun when you can't even open a webpage because you have no signal.
I'm sure you're ready to put the restrictions of common eSIM carriers in the past and experience global connectivity at its full potential.
Most carriers have had eSIM data plans available for a while now, but there hasn't been a significant improvement in how well they keep their customers connected. Even Verizon has stated that their eSIM data plans cause performance and compatibility issues with their dual-SIM phones.
With Airalo, you don't have to worry about dropped calls or weak signals when you're away from home. We partner with local telcos around the world and provide you the right eSIM per location. Here we'll explain how to use Airalo eSIM and cover any additional questions you may have.
How to use Airalo eSIM
Want to visit almost any location in the world and stay connected? We offer prepaid data plans for over 130+ countries, which you can buy directly from our website at Airalo. Just select which region or country you're using the data and pick a plan with the right data limit for your needs.
Note: We recently revamped our eSIM installation guide. See the updated version.
1. How to install an eSIM
Phones that support eSIM, such as the iPhone XR, already have the technological hardware necessary to activate eSIM plans, so there is no need to install a physical card. All you need to do is purchase a plan and upload it into the phone.
Keep in mind, iPhones manufactured in certain countries outside the United States are not compatible with eSIM.
Here are the following steps you need to carry out before you activate an eSIM plan:
Make sure your phone is unlocked from any other carrier, or the activation process will not work. Ask your mobile provider if they let you use eSIM from other carriers since many do.
Navigate to the "Settings" on your phone's home screen and select "Cellular or Mobile."
If your phone supports eSIM, there should be an option to "Add a Cellular Plan," otherwise, the eSIM activation process will not work.
As soon as you have your phone unlocked and you confirm that it supports eSIM, you can activate an Airalo eSIM.
2. How to activate eSIM
Once you purchase an eSIM, you will receive detailed information to activate your plan on your mobile device via email.
Airalo lets you activate eSIM on your phone effortlessly via the following ways:
Scan the QR code: Navigate to "Settings" > "Cellular/Mobile" > "Add a Cellular/Mobile Plan." Scan the eSIM QR code that was provided to you and enter a 4-digit confirmation code (if applicable).
Add eSIM manually: Navigate to "Settings" > "Cellular/Mobile" > "Add a Cellular/Mobile Plan" > "Enter Details Manually." Enter in SM-DP, address, and activation code in the required fields. You can find the information for your plan in your purchase confirmation details. Some plans may require a confirmation code as well.
Once you have activated your eSIM, you may relabel your mobile plans or set up a default line to handle non-personal calls or messages which aren't stored in your contacts.
3. Connecting to the internet with eSIM
If you experience problems receiving a signal or connecting to the internet, you may need to check a few settings or attempt to recover reception.
Here are a few ways to find out if you're connected or reestablish signal:
Check if the roaming switch is OFF: Normally, a roaming switch is set to "OFF" when you're not traveling abroad. If it's switched off, your phone will not switch to your eSIM while you're roaming. You can find it in the "Settings" of the phone.
Does your eSIM require APN? Some eSIMs need an APN settings update. If this is the case, the instructions to set up your APN are included with your installation instructions after purchase.
Reestablishing connection: If you're having problems loading webpages or connecting to the internet, check to make sure you have enough signal bars for 3G or 4G/LTE. If you are in a functional coverage area and have tried all other fixes, you may need to complete a full power-down restart.
4. Making calls with eSIM
Smartphones with dual-SIM technology simultaneously utilize the physical SIM and eSIM to keep you connected so you can receive or send calls. You may select the line which you prefer to use for data connectivity at any given time.
Here is how you can switch between two SIMs for Apple phones with iOS 12.1 or later:
You need an iPhone XS, iPhone XS Max, or iPhone XR
Your phone must be unlocked or plans from the same carrier (except CMDA carriers)
Choose your default line for all messages and calls that are not stored inside your contacts in the mobile and cellular plan settings
Whenever you want to switch between lines, enter "Settings" > "Cellular/Mobile Data" > "Turn On This Line."
5. Deactivating or removing eSIM
Although you don't need to remove the eSIM to continue calling on additional plans, you can either delete or temporarily disable an eSIM in your device's settings.
Here's how you can delete or disable an eSIM:
To delete an eSIM: Navigate to "Settings" and tap "Cellular/Mobile." Once you are there, you can tap on the eSIM line and select "Remove Mobile Data Plan." It may say "Remove eSIM" or "Delete Mobile Plan," depending on which device you have.
To temporarily disable an eSIM: Navigate to "Settings" and select "Cellular/Mobile." You should see an option to "Turn on/off this Line," which disables the eSIM temporarily. You can re-enable or reuse it at a later time.
6. Updating APN
The APN (Access Point Name) is a phone setting that may require customization to use certain Airalo eSIMs. After purchasing an eSIM, you will be notified that your APN requires an update to begin using it.
Here's how to update an APN for these specific eSIMs:
Tap the eSIM in your phone's "Cellular/Mobile" settings.
There is a section to add an APN name where you would also put other line information.
The password and username fields can be left empty.
Why Airalo eSIM transforms the way you connect globally
If you're one to travel often and do not like to go off the grid, then you'll love how much Airalo eSIM changes the way you connect. With eSIM, you'll never have to worry about losing signal or being out of touch with your loved ones while you're away.
Connect in over 130+ countries: Airalo partners with telcos in over 130+ countries to offer you consistent connectivity at local-based rates.
No local-based SIMs: You no longer need to purchase a local phone plan whenever you travel abroad, eSIM allows you to go anywhere you want with your current phone.
No pocket Wi-Fi devices: eSIM data plans will enable you to use Wi-Fi without visiting hotspots or renting an inconvenient pocket Wi-Fi device.
No more outrageous roaming charges: What's worse than returning from your trip with a hefty data overcharge bill? With eSIM, you aren't restricted to your primary carrier's data zone.
Keep your phone number (dual-SIM only): If you don't want to change your number each time you travel or move outside your data zone, you can keep using it with your eSIM line.
Think of all the time and money you can save by switching to an eSIM carrier that offers full connectivity without limits? Flexible eSIM data plans allow you to connect almost anywhere in the world and achieve the connectivity freedom you desire.
Get complete on-the-go connectivity freedom with Airalo eSIM
Do you know how to use eSIM to make the most of your mobile data while traveling?
Imagine never having to buy a temporary phone at a local venue or whether your phone has reception when you want to stay at a remote resort? Why would you continue to pay irrational rates or fees for data that you can't use consistently?
As a traveler, you probably love to save money on your expenses, and you can't afford to use a phone plan that doesn't even keep you connected as promised. That's what Airalo eSIMs aim to change about mobile connectivity. Get complete freedom to choose and connect almost anywhere in the globe with much less effort.
Want to learn more about how to use eSIM to transform your travel experience? Breakaway from traditional carrier restrictions and enjoy connectivity on the go like never before. Visit Airalo today to switch to a sensible data plan that adapts with your travel needs.